W800 Shown
W800 Shown
THE ORIGINAL ICON
Starting at $9,199 MSRP
The 1960s spirit runs deep in the Kawasaki W retro-classic lineup with class-leading authentic styling, sound and feel. A true throwback to the iconic W1, modern W800 motorcycles are meticulously crafted to pay homage to the past, all while thoughtfully incorporating modern technology and features.
FEATURING:
773

cc

Air-cooled Vertical-twin engine
Traditional exhaust system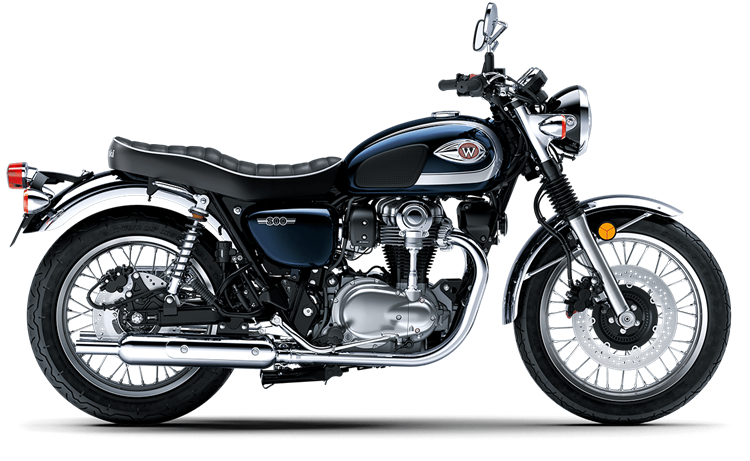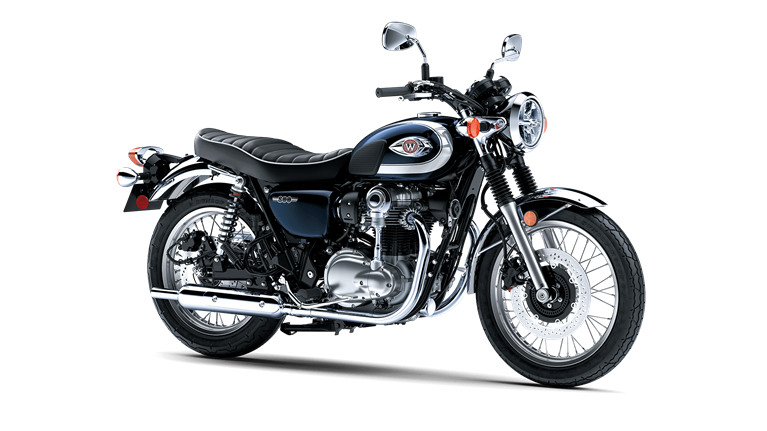 ADDITIONAL VEHICLE FEATURES:
Authentic W1 inspired styling
Disc brakes with ABS
Chrome-plated steel fenders
Large round turn signals
Standard handlebar
Large 19" front wheel and 18" back wheel
Relaxed riding position
Silver alumite rims
Tuck & roll seat
Kawasaki Advanced Dynamic Analysis Designed Frame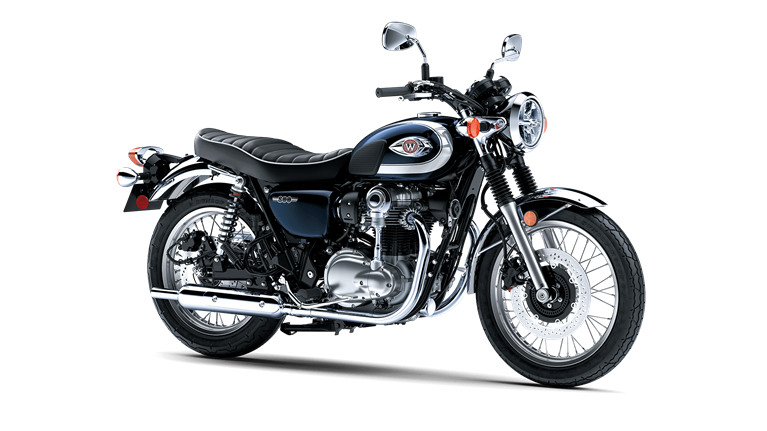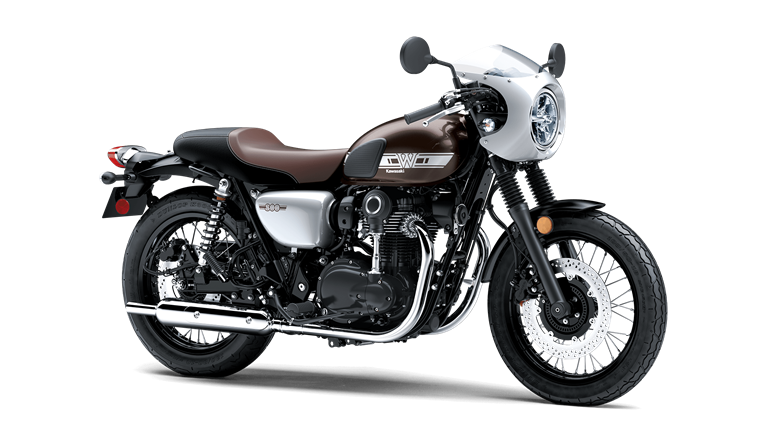 ADDITIONAL VEHICLE FEATURES:
Retro café-racer styling
Disc brakes with ABS
Sculpted fuel tank
Round LED headlamp
Café-racer front cowl
Clubman-style handlebar
Black alumite rims
Café-racer seat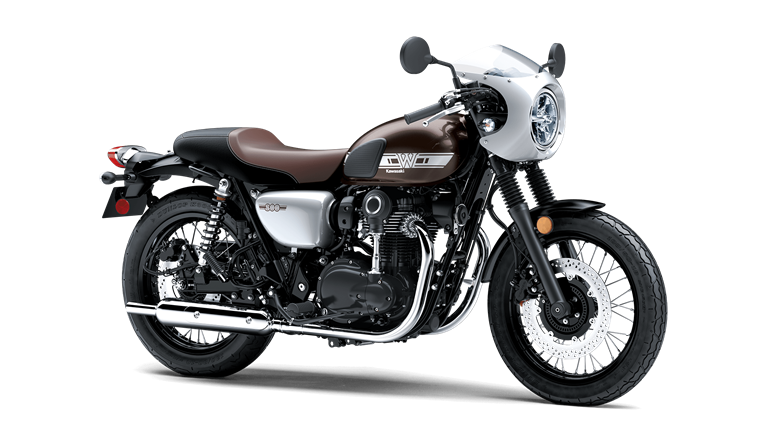 RETRO STYLING
Paint Job from the Past
Ride in style. Both W800 models come in equally eye-catching classic colors.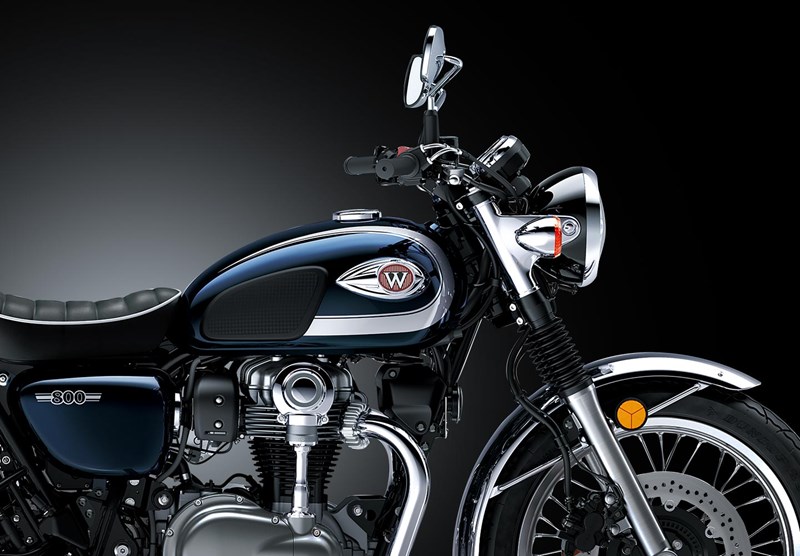 RETRO STYLING
Bold & Stylish
The striking curves of the sculpted fuel tank naturally draw the eye, further adding to the iconic style elements of the W800 motorcycle. The larger volume makes an unmistakably powerful impression.
RETRO STYLING
Vintage Meets Modern
The individual speedometer and tachometer exhibit a classic display while a multi-function LCD screen adds a modern touch.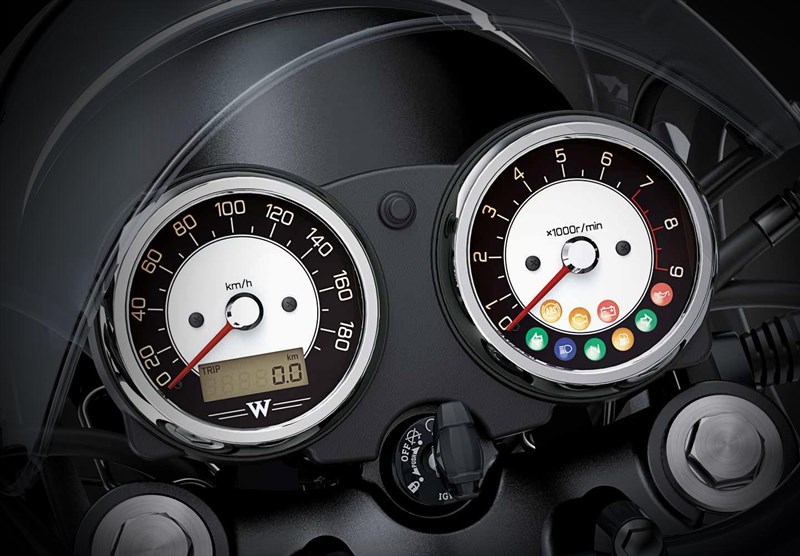 RETRO STYLING
Potent Lighting
A large 170mm LED headlamp casts a bright, white light. Six total chambers light the way, four for low beam plus an additional two chambers for high beam. Position lamps in the high-beam chambers ensure the whole lamp appears lit, like a retro-style bulb headlamp. Details like a convex lens and chromed headlamp ring make note of the high-quality, classic design. Taken straight from the past, the W800 CAFE motorcycle is fitted with a sleek café-racer front cowl (not shown).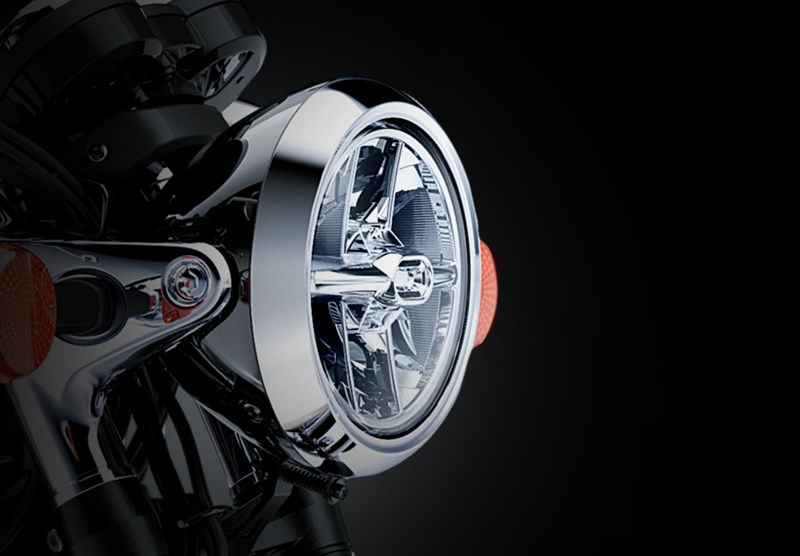 RETRO STYLING

Original W1-Inspired Styling

Kawasaki W motorcycles have never known conformity. The W800 retro classic line is dedicated to preserving the 1960s image, sound and feel.
POWER AND PERFORMANCE
Powerful & Torquey
The W800 motorcycle is powered by a vertical twin-cylinder 773cc four-stroke engine that features a distinct bevel gear-driven camshaft and SOHC 4-valve head tuned for strong low- to mid-range performance. Abundant torque is complemented by the clean operation of modern fuel injection.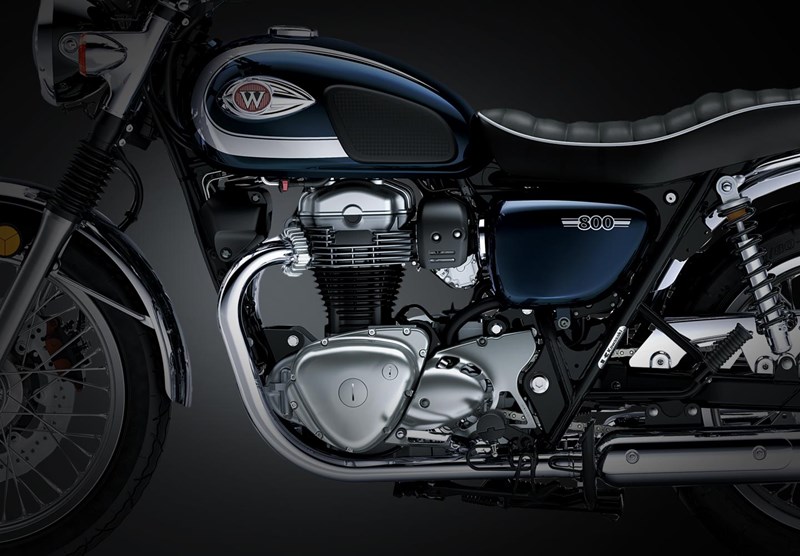 POWER AND PERFORMANCE
The Classic Look
A classic muffler design emits the throaty exhaust note that makes parallel-twin engines infamous. Twin mufflers with carefully tuned internals deliver the characteristic note of the vertical twin's 360° crankshaft engine configuration—a throwback to the original Kawasaki W1 motorcycle.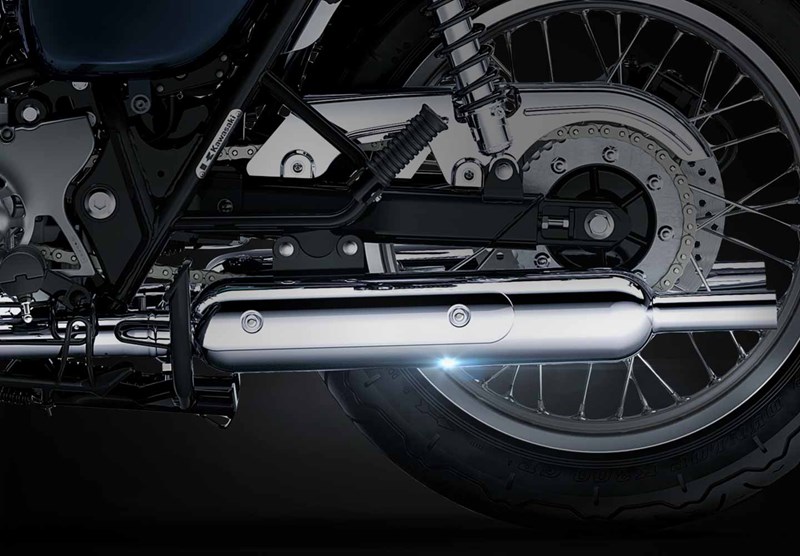 POWER AND PERFORMANCE
Smooth Ride
Dual rear shock absorbers with adjustable spring preload offer a smooth ride and a clean look.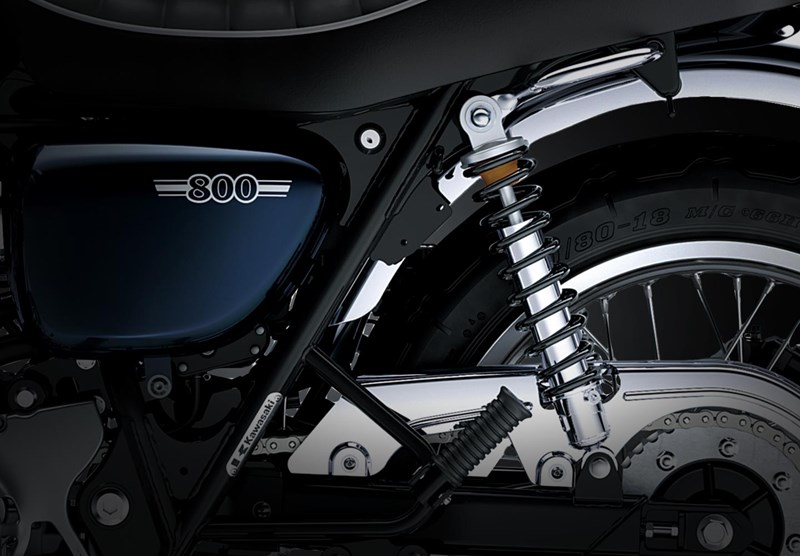 POWER AND PERFORMANCE
Strong & Responsive
Stopping power comes thanks to an ABS-equipped braking system that features a large diameter 320mm front disc brake paired with a 270mm rear disc brake for excellent response and strong stopping power.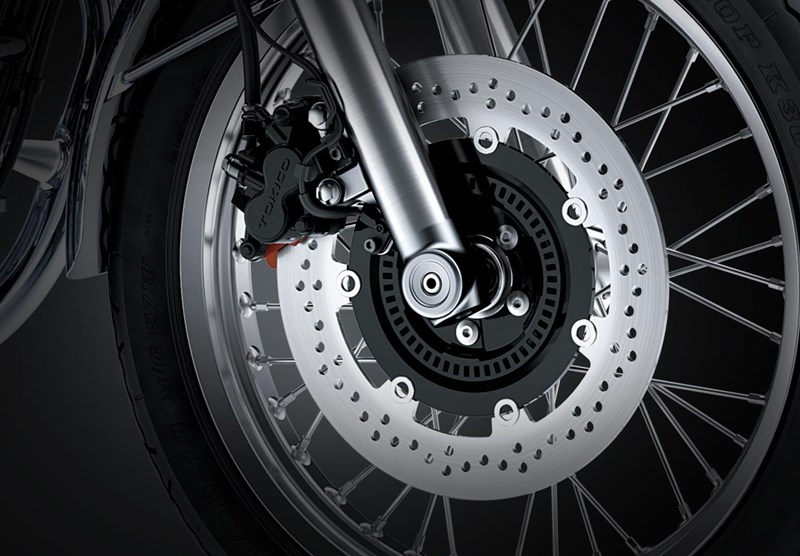 POWER AND PERFORMANCE
Smooth & Responsive
Stout 41mm stanchions minimize flex and stiff fork springs soak up bumps on well-traveled city streets. Rubber gaiters are used to protect fork tubes and ensure long fork seal life while adding to the retro appearance.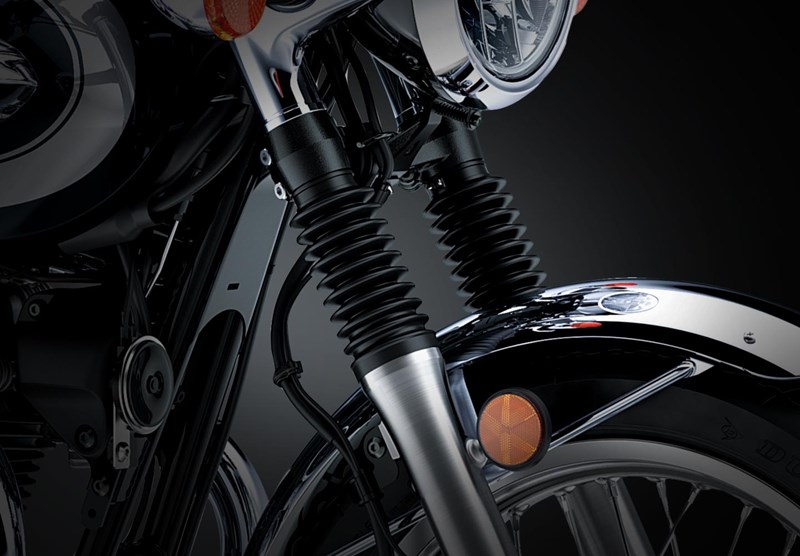 POWER AND PERFORMANCE

Break the Status Quo

Power and performance features combine with authentic Kawasaki W1 style for an exhilarating ride.
ERGONOMICS
Clean & Reliable
Compact switchgear gives the handlebar an uncluttered and vintage appearance while modern internals ensure reliable performance.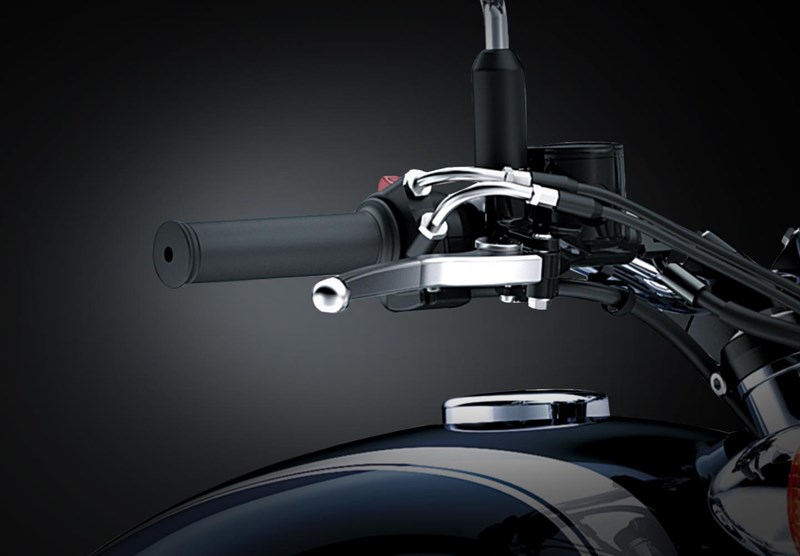 ERGONOMICS
Vintage-Style Riding Position
The W800 CAFE motorcycle offers a sporty riding position due to a clubman-style handlebar and café seat. On the W800 motorcycle, a standard handlebar and a tuck & roll seat provide a more relaxed riding position.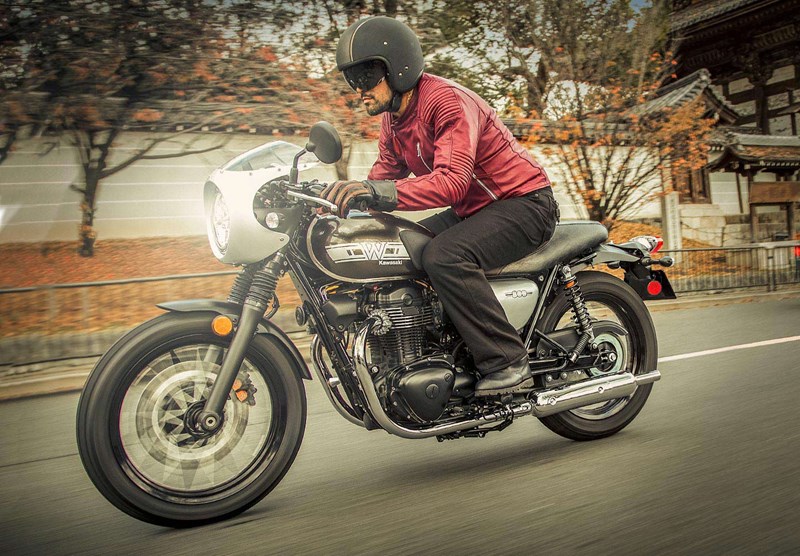 ERGONOMICS
Fine-tune Your Ride
5-way adjustable clutch lever and 4-way adjustable brake lever enable riders to fine-tune lever position.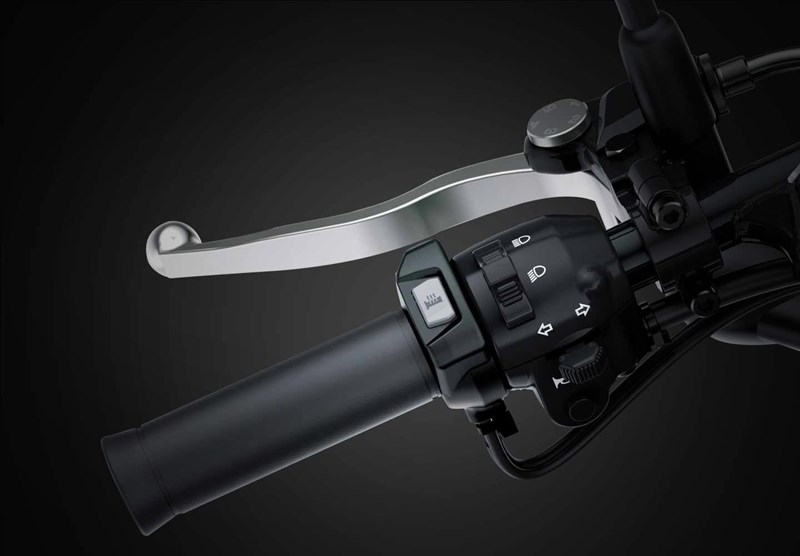 ERGONOMICS

Thoughtful Design

Premium ergonomic features offer comfort for a wide range of riding applications.
Non-U.S. model specs may be depicted. Equipment illustrated and specifications may vary to meet individual markets.