msrp $13,099
destination charge $725
†
† Specifications and pricing are subject to change.
Dealer sets the actual destination charge, your price may vary.
Click on product to zoom.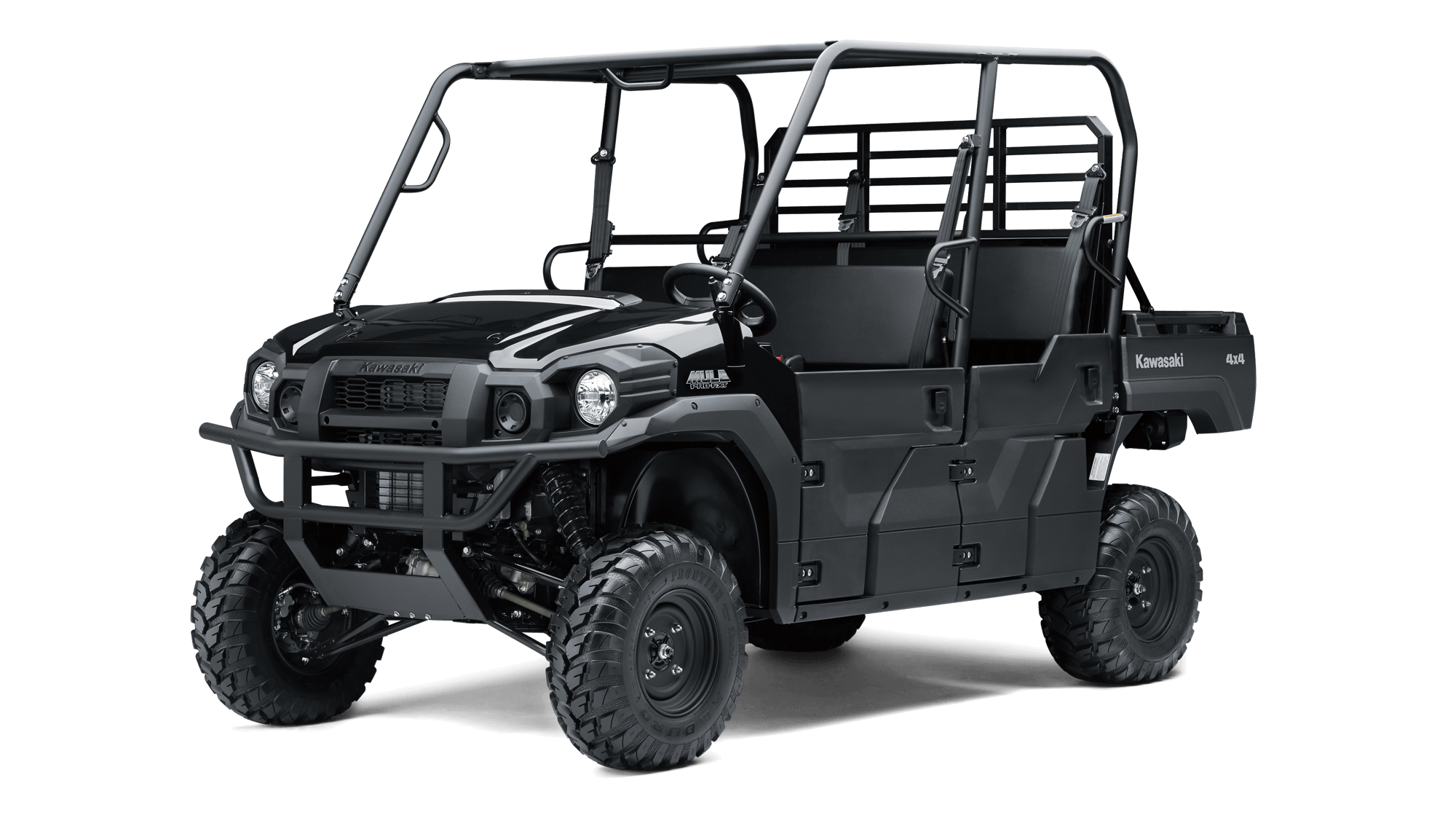 gallery
show more
Models may be shown with optional accessories
Power
Engine
4-stroke, 3-cylinder, DOHC, liquid-cooled, gas
Maximum Torque
48.0 lb-ft @ 3500 rpm
Fuel System
DFI
®
with 34mm throttle body
Transmission
Continuously Variable Transmission (CVT) with (H,L,N,R)
Final Drive
Selectable 2WD/4WD, shaft. Dual mode rear differential with differential lock
Alternator Output (max)
75 amp
Capability
Steering
Electric Power Steering (EPS) / rack-and-pinion, (Non EPS rack-and-pinion)
Cargo Bed Dimensions (LxWxH)
42.7/22.0 x 53.7 x 11.0 in
Cargo Bed Capacity
1000 lb (3-person mode) 350 lb (6-person mode) (600 lb for California models)
Lighting
(2) Halogen (high/low beam) headlights. Ranch Edition/LE/Camo models (2) additional auxiliary LED headlights (high/low beam)
Details
Overall Length
133.3 in / 135.6 in (Ranch Edition)
Overall Height
79.5 in (Ranch Edition, EPS LE) / 77.6 (EPS, Camo, Non EPS)
Curb Weight
1962.5 lb (Ranch Edition) / 1922.8 (EPS LE) / 1911.7 (EPS) / 1916.1 (Camo) / 1887.5 (Non EPS)**
Instruments
Multi-function display includes digital speedometer, fuel gauge, odometer, hour meter, clock, dual trip meters, 2WD/4WD indicator, water temperature warning indicator, oil pressure warning indicator, fuel injection warning indicator, CVT and EPS warning indicators (except Non EPS), neutral, reverse and parking indicators, seatbelt reminder lamps
Color Choices
Super Black
Warranty
Kawasaki Strong 3-Year Limited Warranty
Kawasaki Protection Plus™ (optional)
12, 24 or 36 months
All MULE side x sides' Rollover Protective Structure (ROPS) meets the performance requirements of ISO 3471
**Curb weight includes all necessary materials and fluids to operate correctly, full tank of fuel (more than 90 percent capacity) and tool kit (if supplied).
KAWASAKI CARES: Always wear protective gear appropriate for the use of this vehicle. Never operate under the influence of drugs or alcohol. Protect the environment. The Kawasaki MULE™ side x side is an off-highway vehicle only, and is not designed, equipped, or manufactured for use on public streets; roads or highways. Obey the laws and regulations that control the use of your vehicle. Read Owner's Manual and all on-product warnings. © Kawasaki Motors Corp., U.S.A.
Specifications subject to change.
accessories & apparel
All trademarks, registered trademarks, logos, and copyrights are the property of their respective owners.
WARN
®
, the WARN logo and THE RED HOOK STRAP are registered trademarks of Warn Industries, Inc.
ProVantage™ and Vantage™ are trademarks of Warn Industries, Inc.
Realtree APG-XTRA Camouflage Design © 2012 of Jordan Outdoor Enterprises, Ltd., all rights reserved.
™/® & © 2018 TrueTimber Outdoors Holding Company, LLC. Manufactured and/or distributed under official license by Kawasaki Motors Corp., U.S.A.
view comparable models
3- to 6-Passenger
MULE PRO-FXT
™
Full-size, high capacity, three- to six-passenger side x side featuring a TRANS CAB™ system.
MULE PRO-DXT
™

DIESEL

Full-size, diesel-powered, high capacity, three- to six-passenger side x side featuring a TRANS CAB™ system.

}
MULE PRO-FXT™ EPS LE model shown
items have been added
Please make a selection below
×
Thank you. An email will be sent to you shortly.
No account found with that email address.
Back