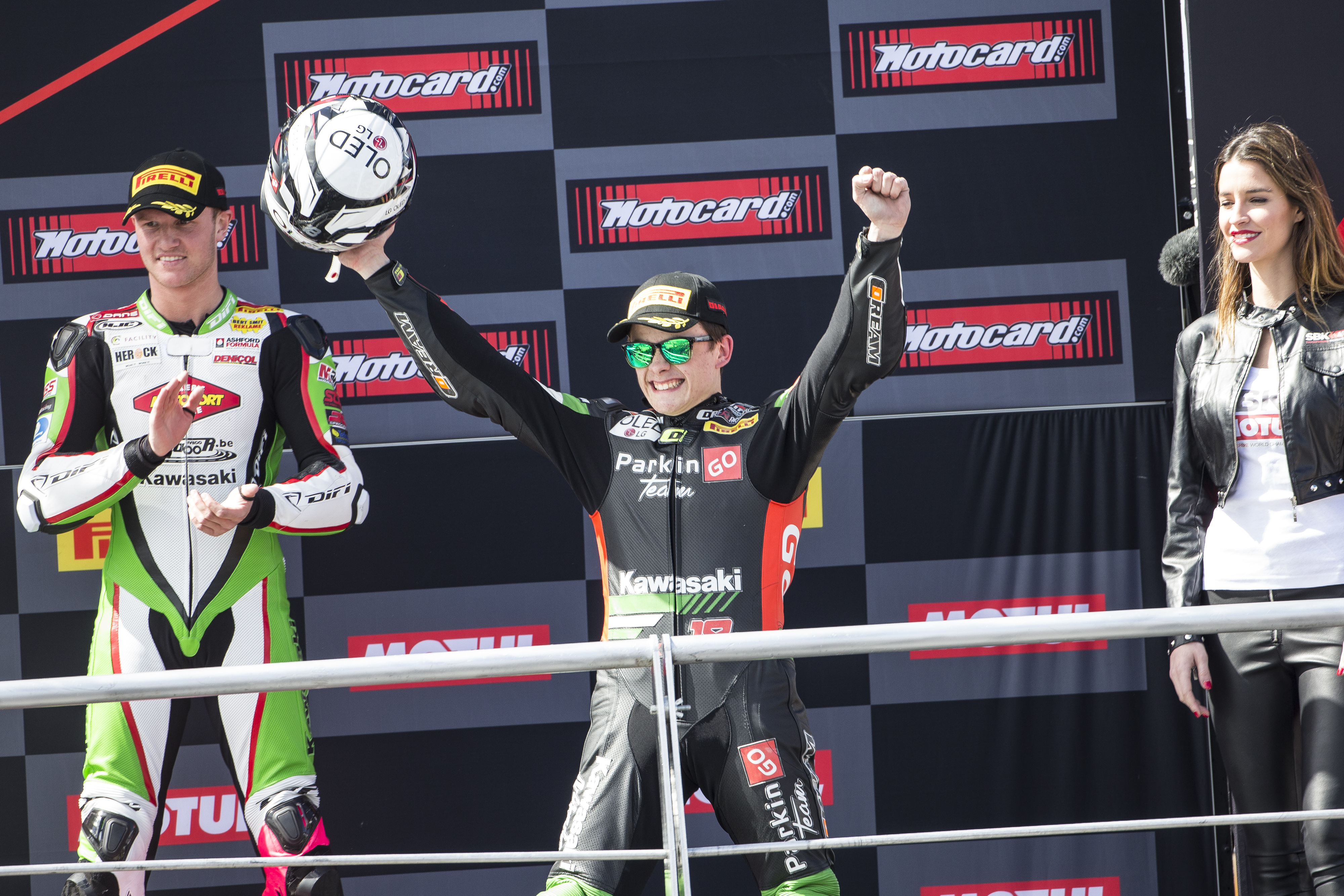 The opening round of the new-look WorldSSP300 championship took place this weekend at the Spanish circuit of Motorland Aragon, with a win for Kawasaki and two podium places for the Ninja 400 in total.

Spanish rider Manuel Gonzalez, only 16 years of age, took his Kawasaki ParkinGo Team to the very top step of the podium at his home race.
Last year he scored three podiums in this exciting class, designed around young riders, but to record his first WorldSSP300 race win at home left the teenager from Madrid almost speechless. He had also taken pole position after Superpole Qualifying, with a new best lap of 2'06.938.
Title challenger in previous seasons, Scott Deroue (Kawasaki Motoport) had a remarkable ride from 14
th
on the grid to third place, picking off rivals at just the right time to get him into the leading bunch in the final lap.
Ana Carrasco (Kawasaki Provec), the reigning champion, was well in the multi-rider fight for the podium places but was unlucky to fall on lap six after being hit from behind, losing the chance to start her title defense in style. Like all her competitors she will have eight more chances to go all-out for race wins, in a season that runs from Motorland in April to Losail in October.
Ana, the first woman to win a full FIM World Championship in roadracing, does not leave her home round without any reward. She set a new lap record on lap two, with a 2'07.487 on her impressive run through to the leading positions.
With over fifty young hopefuls trying to take ultimate glory in the FIM Supersport300 World Championship in 2019, qualifying has to be split into 'A' and 'B' groups, with the fastest few from each group being joined on the final starting grid for the race on Sunday afternoon by the top riders from a 'last chance' race on Saturday.
A few talented riders needed to qualify for the grid via that last chance race route, and even some others like Deroue and Carrasco found it relatively tough in qualifying. No less than 36 riders started the 11-lap race today.
Bruno Ieraci (Kawasaki GP Project) was another top ten rider at Motorland on a Ninja 400, in eighth place. Robert Schotman (Motoport Kawasaki) just missed out on the top ten places in 11
th
. No fewer than 11 of the top 20 riders were on Kawasaki's today.
Proof of just how competitive this class is can be found in the fact that the top seven riders were covered by just 0.891 seconds at the checkered flag in Motorland.
In the current championship standings, with just one race gone, Gonzales leads with 25 points, Hugo De Cancellis has 20 and Deroue 16.
The next round will take place in a few days time, at Assen in the Netherlands, with race day on Sunday the 14
th
of April.
Manuel Gonzalez, stated: "I do not have words for this race win because it was so difficult - but I enjoyed it a lot! The last lap was so tough because the slipstream in the main straight was difficult to manage. But I overtook De Cancellis in the last corner. Thanks to all in the team for the hard work they have done here. See you all at the next races."


Scott Deroue, stated: "Yes it was incredible to come through for a podium. This weekend was quite hard and in qualifying I was not really good. I was not in the best place on the grid so I knew we had to something. I was just pushing, pushing - like unbelievably hard. I think this is one of my best races ever. I already won some races in this class but I think this race was the best ever."

Ana Carrasco, stated: "It is a pity to not score. We had some issues in the practice sessions and I started the race from the fourth row. In the race itself I felt myself to be very fast, and comfortable, so much so that we actually set a new lap record. Some bikes had better acceleration but in braking and top speed I was super strong. In the crash two guys in front of me touched and I had to close the throttle - then someone hit me from the back. It is a shame because I am sure I could have finished on top. I just want to say thanks to all people that came to see me here at Motorland, to my team and Kawasaki. I am on the bike again in only four days, at Assen - I can't wait!"

#NinjaSpirit