< Back to Racing News
Mar 3, 2023
Complex Start To Round Two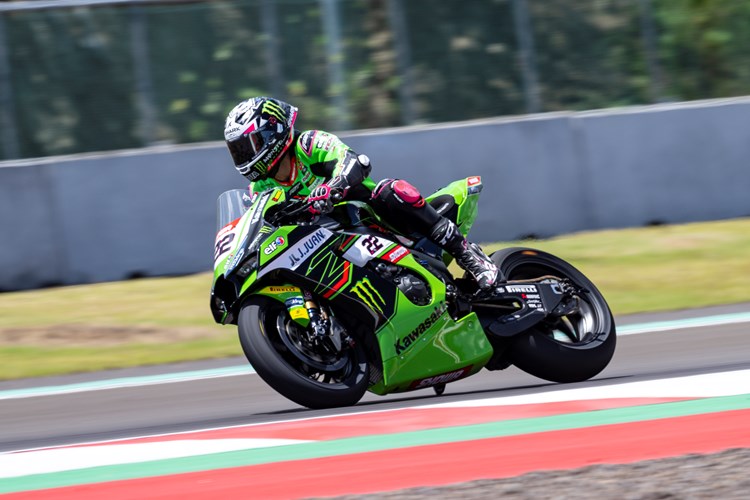 Alex Lowes
The Mandalika International Street Circuit is the host venue for the second round of the FIM Superbike World Championship and after the first day of action KRT riders Jonathan Rea and Alex Lowes sit fourth and seventh fastest respectively.
The track surface at the 4.3km long Mandalika circuit proved to be very dirty and 'green', due to lack of use and the circuits location so close to the seaside on the Island of Lombok.
It took some time for the grip levels to increase on the narrow racing line during Free Practice One, meaning Rea left it until the later stages of the first 45-minute track session to venture out and start the important work of finding an optimum race set-up.
Jonathan eventually finished up fourth fastest from all 22 riders, but he and his technical crew now have to find the best possible chassis set-up to make sure that his race tires, particularly the fronts, can offer up competitive grip across full race distance.
Lowes also found the circuit conditions difficult to work with, especially as the grip levels changed as the day went on. Alex experienced some chatter during the afternoon session, but at times took the chance to stay out on track on a used tire to try and find set-up improvements when he faces real race conditions.
The weekend action continues on Saturday 4 March with FP3, Tissot-Superpole qualifying and then the first full 22-lap race, which takes place at 13.30 local time in Lombok. Sunday 5 March will feature the always intense Superpole Race and then a second and final full distance Race Two.
Jonathan Rea, stated: "The track has no rubber down and is so dirty, so the first session was a disaster. Because of the tire allocation we just had to be conservative. I chose to only ride the last part of FP1 and even then with our normal preferred front race tire, we destroyed it. In FP2 we focused with a different weight balance of the bike, trying to take weight out of the front to save the front tire. I think front tires are going to determine the race outcomes. In comparison to last year, we have improved in this area a little bit, but where our bike makes the time is in trail braking and corner entry. And if we don't have a stable front, then it is so difficult. So we are focusing to improve in that area tomorrow. Of course, I expect the track to be better tomorrow. There will be more rubber down and the track will be cleaner, which will help with front tire life."
Alex Lowes, stated: "The track surface changed so much here over the sessions it is a little bit hard to chase a set-up. The track changes about a second a lap between each session, which will be of more effect than any set-up change you can do on the bike. But, we tried something a little bit different due to the lack of grip, to try to not force the tires as much. If you get a little bit off line here, it is like the track can't take it. That was causing me quite a lot of chatter this afternoon, but apart from the chatter, I tried the hard tire option to start with, did bit of a longer run, then I tried an SCX. That dropped off a bit too fast for me. Apart from that, I didn't feel too bad, to be honest. Better than I did here in November. We just have a little bit of work to do to piece it together and see what the conditions are like on Saturday."
Returning star Tom Sykes (Kawasaki Puccetti Racing) suffered from a debilitating bout of gastrointestinal infection on day one at Mandalika, and hopes his physical condition will improve on Saturday. Tom was finally ranked 20 on day one.
Oliver König (Orelac Racing Movisio Kawasaki) ended his first day in Indonesia in 21st place.
2023 KRT Rider WorldSBK Statistics
Jonathan Rea: World Champion 2015, 2016, 2017, 2018, 2019 & 2020
2023: Races 3, Wins 0, Podiums 1, Superpoles 0
Career Race Wins: 118 (103 for Kawasaki)
Career Podiums: 246 (204 for Kawasaki)
Career Poles: 40 (36 for Kawasaki)
Alex Lowes:
2023: Races: 3, Wins 0, Podiums 0, Superpoles 0
Career Race Wins: 2 (1 for Kawasaki)
Career Podiums: 33 (13 for Kawasaki)
Career Poles: 1 (0 for Kawasaki)
8 x Riders' Championships (Scott Russell 1993, Tom Sykes 2013, Rea 2015, 2016, 2017, 2018, 2019 & 2020), 1 x EVO Riders' Championship (David Salom 2014)
6 x Manufacturers' Championships (Ninja ZX-10R 2015 & 2016, Ninja ZX-10RR 2017, 2018, 2019 and 2020)
5 x Teams' Championships (KRT/Provec Racing 2015, 2016, 2017, 2018 & 2019)
Kawasaki FIM Superbike World Championship Statistics
Total Kawasaki Race Wins: 177 – second overall
Total Kawasaki Podiums: 524 – second overall
Total Kawasaki Poles: 105 – second overall
#NinjaSpirit