< Back to Racing News
Apr 23, 2022
Another Classic Assen Win From Rea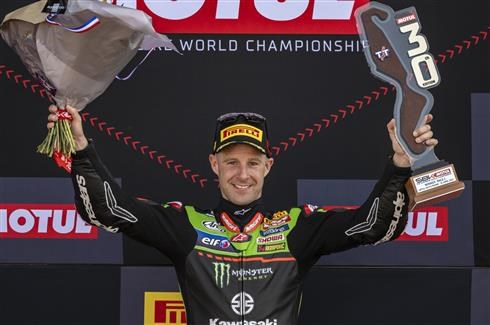 Jonathan Rea
KRT rider Jonathan Rea scored yet another famous race win at the Assen TT Circuit to take his 99th Kawasaki WorldSBK win and the 114th victory of his career. A stroke of misfortune beyond anyone's control dropped Alex Lowes from a podium contender to a non-finisher at half race distance.
His 16th Assen race victory was one of Rea's very best, as he held his racing line and his nerve in the final corners to beat Alvaro Bautista by just 0.103 seconds.
In the Superpole contest earlier on Saturday morning a strong showing from both KRT riders saw Lowes finish second and Rea third, putting them both on the front row for the opening 21-lap race.
In the early laps Superpole winner Toprak Razgatlioglu was leading but Rea used all his considerable experience and determination to ease past his rival and take the lead. With nine laps to go championship leader Alvaro Bautista joined Rea and Razgatlioglu, having dropped Andrea Locatelli from the podium battle.
Razgatlioglu re-passed Rea for the lead at half race distance. After that point Rea and Razgatlioglu traded the lead for a time, until Jonathan eased ahead again - just as Bautista had moved into second place.
As the final chicane approached Bautista closed in on Jonathan but was not able to pass him on the inside as Rea had set-up a defensive inside line with his Ninja ZX-10RR. It was a thrilling end to another exciting WorldSBK race in the 2022 season.
Rea has now extended his all-time record of Assen wins to 16, 11 of them on Kawasaki machinery.
Alex had a contrasting final experience to Jonathan in Race One, through simple bad luck. Lowes was sitting in a comfortable top five position until a stone was kicked up from another rider's rear tyre, which punctured Alex's oil cooler and forced his retirement at half race distance.
In the overall points' standings Rea retook his championship lead by two points from Bautista, with two more Assen WorldSBK races to go on Sunday 24 April.
Jonathan Rea, stated: "The race was a difficult one because with Toprak in the front I felt much faster. When I went to the front I felt like I did not want to destroy my tire, so I just conserved my pace. He wasn't coming back at me again so I thought, 'just keep the rhythm.' Then I saw Alvaro come through and he was really close. I had not much in reserve but I knew in the last three laps I could maximize the bike and really push on. It was giving me really good feedback. There were just a couple of weak areas where I needed to be careful, defend a little bit and make no mistakes. In the stronger areas I was able to put in some power and take another Assen win."
Alex Lowes, stated: "Today was a positive day but unfortunately we ended up with no points. Sometimes it can be frustrating because you have to learn that when some things are out of your control, you should not get annoyed. If I look at my performance, and the performance of my team, the guys and the bike we had, we did a good job. In Superpole qualifying I was really happy, we were under the lap record, but unfortunately Toprak was another chunk faster than us. In the race I was hanging in there pretty well, with a bit better pace than I expected. So I was happy with that but unfortunately in the incident with Locatelli his bike just flicked a stone up and it went through the oil-cooler. So, we had to retire. It wasn't my fault or the team's fault, it was just a little bit of bad luck. But this is racing and tomorrow we have another two races to try and do a bit better."
Lucas Mahias (Kawasaki Puccetti Racing) was on course for a top eight finish when he fell on the final lap, at slow speed. He restarted to finish 15th and take a single championship point. Leon Haslam (TPR Team Pedercini Racing) was 16th in his first WorldSBK ride of the season, with Oliver König (Orelac Racing VerdNatura) 21st.
2022 KRT Rider WorldSBK Statistics
Jonathan Rea: World Champion 2015, 2016, 2017, 2018, 2019 & 2020
2022: Races 4, Wins 2, Podiums 4, Superpoles 0
Career Race Wins: 114 (99 for Kawasaki)
Career Podiums: 219 (177 for Kawasaki)
Career Poles: 35 (31 for Kawasaki)
Alex Lowes:
2022: Races: 4, Wins 0, Podiums 0, Superpoles 0
Career Race Wins: 2 (1 for Kawasaki)
Career Podiums: 29 (9 for Kawasaki)
Career Poles: 1 (0 for Kawasaki)
8 x Riders' Championships (Scott Russell 1993, Tom Sykes 2013, Rea 2015, 2016, 2017, 2018, 2019 & 2020), 1 x EVO Riders' Championship (David Salom 2014)
6 x Manufacturers' Championships (Ninja ZX-10R 2015 & 2016, Ninja ZX-10RR 2017, 2018, 2019 and 2020)
5 x Teams' Championships (KRT/Provec Racing 2015, 2016, 2017, 2018 & 2019)
Kawasaki FIM Superbike World Championship Statistics
Total Kawasaki Race Wins: 173 – second overall
Total Kawasaki Podiums: 493 – second overall
Total Kawasaki Poles: 100 – second overall
#NinjaSpirit