< Back to Racing News
Apr 24, 2022
Öncü Back On The Podium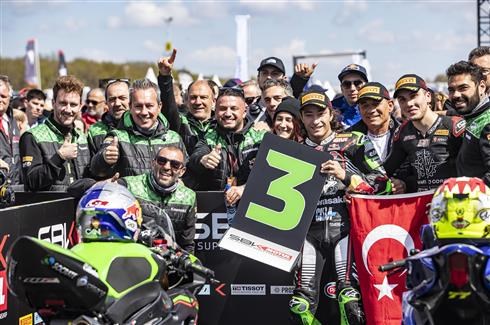 Can Öncü
Kawasaki Puccetti Racing's Can Öncü placed third and his team-mate Yari Montella ninth after a thrilling 18-lap Race Two at Assen, with both Kawasaki riders scoring strong championship points.
After the disappointment of a Race One fall on Saturday Can was entirely focused on not just finishing but getting on the podium in the second Assen WorldSSP Race.
Starting from second place on the grid once again, he pushed his way to the front in the first corner and tried to ride away from his rivals in the first laps. He led for six laps in all, before he was passed by two riders, and then three.
He battled back into third position on lap 11 and held on to a valuable podium place, his second of the 2022 season. Can has now recorded five WorldSSP podiums in all, each one on a Ninja ZX-6R.
Rookie WorldSSP rider Montella rode well in the second Assen race but was finally penalised one finishing position for exceeding the track limits on the final lap. He crossed the line eighth but being finally classified ninth.
Yari was up as high as fifth in the intense race, inside a large group of riders competing for fifth place around the flowing layout of the historic 4.542km long Assen circuit.
In the championship standings, after two rounds and four races, Can is sixth with 32 points and Yari is 11th with 20 points.
Round Three of the WorldSSP championship will take place at Estoril in Portugal, between 20-22 May.
Can Öncü, stated: "After the crash yesterday I think we made a huge step. We worked so hard in the evening and I was so angry about everything. I said to myself 'if I am really like this it is better that I pack my bags and go home.' Today, I said I would be the old Can again. I woke up with a lot of pain after the crash but I knew we would do a good job today. In warm-up we already tried something on the set-up and in the race we made one more step. We took the risk and I said today that I would not finish fourth or fifth. I made a good start and we improved a lot at one of my favourite tracks. This race was important because my father was here - and my mechanic Nico had his birthday yesterday - so this podium I want to give to my family and Nico. In Estoril, I hope I can give another present to another person."
Yari Montella, stated: "I'm quite pleased with today's result. It would have been difficult to do more considering that we started so far back. We've done a great job here, and in the next races we'll use the base we've identified here at Assen to do better - particularly in qualifying. When you start further forward on the grid it's all a lot easier. Considering the effort made by the entire team, we deserved at least fifth position today, but the important thing is that we know we have the potential to score strong results."
Adrian Huertas (MTM Kawasaki) was having another strong ride in the early stages of his rookie season but he was forced to stop with one lap left to run.
Jeffrey Buis (Motozoo Racing by Puccetti Kawasaki) was 20th at his home circuit and his team-mate Eugene McManus (Motozoo Racing by Puccetti Kawasaki) was 23rd. Tom Booth-Amos (Prodina Racing Kawasaki) was unable to ride today after his Race One crash, being declared unfit by the medical officers.
#NinjaSpirit