< Back to Racing News
Aug 8, 2021
Photo-Finish Gives Buis Race Two Win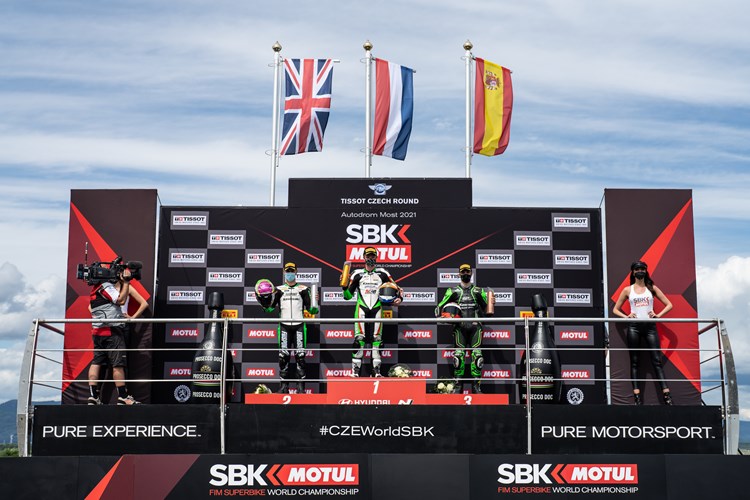 WorldSSP300 Podium
At the Autodrom Most racetrack, which was a new venue for the FIM Supersport 300 World Championship in 2021, two more thrilling races were added to the short, but intense, history of this class. WorldSSP300 is designed for young riders to prove their skills on the very public stage of a full world championship competition.
Using very close to street specification machinery, with minimal racing modifications, Kawasaki riders took their Ninja 400s to the bulk of the podium places again, with a 2-3 finish in Race One on Saturday 7 August and 1-2-3 clean sweep in Race Two on Sunday.
Reigning World Champion Jeffrey Buis (MTM Kawasaki MOTOPORT) won his first victory of the season in a dramatic Race Two photo-finish, with 2021 championship contender Tom Booth-Amos (Fusport - RT Motorsports by SKM Kawasaki) second and eventual third place finisher Alejandro Carrion (Kawasaki GP Project) also just a fraction of a second from victory.
Carrion had been on the first race podium also, in second place. He had originally been ranked third, just behind local rider OIiver Konig (Movisio by MIE Kawasaki), until a penalty was applied to the Czech rider for exceeding the track limits.
Having lost half of the available track time on Friday to heavy rains the riders approached Superpole qualifying only partially prepared. Konig used his local knowledge to full effect to start the races from second place on the grid, with championship leader Adrian Huertas (MTM Kawasaki MOTOPORT) in third grid spot.
Huertas was to fall early in Race One but remounted and chased his way back to the group vying for second place behind runaway winner, Victor Steeman (KTM). Such has been the recent domination of the Ninja 400 riders that Steeman's win was the first for a non-Kawasaki rider since the Motorland Aragon Round in the middle of the 2020 season. Steeman had also started from pole position.
With Carrion finally second and Konig third, Samuel Di Sora, (Leader Team Flembbo Kawasaki) was fourth, just missing out on repeating his top three finishes at Misano and Assen.
Huertas was unlucky to fall so early in the opening race at the tight first chicane and he had to fight to get back into the orbit of the leading group to defend his championship lead.
Booth-Amos, his closest challenger this season so far, had an even earlier drama, which was an unwanted result of a crash on Saturday morning. He had to start from pitlane after his bike developed a fault on the sighting lap. Scything through the massed ranks of riders that characterise the WorldSSP300 class Booth-Amos also made stunning progress over the 14 lap race.
Huertas was to finish sixth, well inside the main leading group, with Booth-Amos eighth. Buis was seventh, De Cancellis ninth. Seven of the top nine riders in Race One were on Kawasaki machinery.
In the second race of the weekend Buis and Booth-Amos were separated by only 0.008 seconds at the flag, requiring a photo finish to ensure that the result taken from the lap-timing transponders was indeed the correct one.
Carrion took his second podium in as many days, finishing just 0.032 seconds from the winner and also clearly visible in the photo-finish. He had led onto the final straight, as was his plan, but he got passed just at the key moment by both Buis and Booth-Amos.
In fifth place Huertas' late push had been compromised by a clash with his crashing team-mate, Yuta Okaya (MTM Kawasaki MOTOPORT). Adrian was still just over a second from the race win.
Koen Meuffels (MTM Kawasaki MOTOPORT) was eighth in Race Two, Victor Rodrigo Nunes (Accolade Smrz Racing Kawasaki) ninth at his team's home track, and Hugo De Cancellis (Prodina Team Kawasaki) rounded out the top ten.
In the points tally, after four rounds and eight races, Huertas has 129 points, Booth-Amos is second overall with 118, Buis third on 86, Di Sora 77, Steeman 63, De Cancellis 62, Okaya 57, Meuffels 54 and Carrasco an unchanged 43. All of these competitors with the exception of Steeman is a Ninja 400 rider.
The next round of the championship will not be at Navarra in Spain alongside the WorldSBK and WorldSSP classes, but at Magny Cours in France, between 3-5 September.
Adrian Huertas (MTM Motoport Kawasaki), stated: "Most is a great track that suits my riding style. Starting from the first row of the grid was the main objective in practice and we managed it. We started well in the first race, but the crash was completely my fault. I feel sorry for the team, but I was able to quickly repair the bike and move on. I was able to come back to the first group and sixth place was the most positive result I could achieve. In the second race I was leading most laps. My teammate crashed in the last lap and with that accident I lost a lot of time. I am happy with my pace at Most, but not with the results."
Jeffrey Buis (MTM Motoport Kawasaki), stated: "What a fantastic feeling to win at Most! We had tested here and that was positive for Friday in the changing conditions. It went well in qualifying too and we started from seventh place. In the first race the pace was good, but I was a bit too enthusiastic at the start. Then I came back well. In the beginning of the second race I didn't really had the pace to fight at the front of the leading group. I waited until the final lap to attack. I came out perfectly on the last straight. So cool! I want to thank the team, my sponsors and everyone who helps me out."
Tom Booth-Amos (Fusport - RT Motorsports by SKM Kawasaki), stated: "I crashed on Saturday morning and the bike was destroyed. The guys did a great job to fix it, but something wasn't quite right on the grid, so we had to go off into pitlane for a while. Luckily we fixed it in the pitlane, but it was a shame to have to start from there because our race pace was good. We could have capitalised on Huerta's crash. So, considering we started from pitlane, I'm happy with eighth position. I thought I had Race Two won on Sunday, but you never know in WorldSSP300! Someone can just come through in the slipstream like that. I am happy because we got some points back in the championship battle which is the main thing after yesterday's misfortune. Overall, a difficult weekend, but finally we finished on a strong point."
Ana Carrasco (Provec Kawasaki Racing), stated: "It was another difficult race today. I tried to throw in as much pace as I could at the beginning and I recovered quite a few positions. Starting so far behind in this class it is difficult to recover places, especially in the first few laps. We made some modifications to the bike for the second race and it was an improvement compared to Saturday, although I lacked a bit of pace to be able to fight for the points. In general, it has been a very complicated weekend. I have not felt fast at any time and I have had a hard time adapting to this track. It's time to wipe the slate clean and get to work for the next one."
Alejandro Carrion (Kawasaki GP Project), stated: "On Saturday it was a very crazy race from the first lap. We tried to follow Steeman, but there were many fights in the second group and with so many riders involved it made it impossible to catch him. It was a very good race and incredible to be on the podium for the first time. The grip in the last laps was different because in practice we only got to do nine or 10 laps at a time. In the race it was over 14 laps. So the bike felt different toward the end. The second race was maybe even more crazy than the first one, with many riders passing. When I started to push hard my objective was to be in second or third position approaching the last corners and then pass into the lead to take the victory. I did that, but then the slipstream came into effect on the last straight so Buis took the victory and Booth-Amos second place. My year started with two broken bones and then two no scores in Misano, so it was a difficult beginning. But working with my team and my family all believing in me the results are here with two podiums this weekend."
OIiver Konig (Movisio by MIE Kawasaki), stated: "It was a mega race and I am so emotional because I took a podium in my first race at home. It was something special. The race was so hard because everybody wanted to push. The track is so difficult because it is easy to overtake, but with some risk and danger. But I finished on the podium and I am very happy that I was the first Czech rider to do that at Most."
Koen Meuffels (MTM Motoport Kawasaki), stated: "I was happy with the first day as we had the speed from the start. We only made it difficult for ourselves in qualifying. My fastest lap was cancelled and I had to start from P28. In the first race I moved up quickly and managed to get to the front group. In the end, I was not entirely satisfied with my P14. In the second race, eighth place was the maximum result, after the leading group broke up. Now we take a break and move on to Magny Cours!"


Yuta Okaya (MTM Kawasaki MOTOPORT), stated: "Most is a completely new track for me. We had a hard time in practice and we were searching for the right setup. From Superpole on the bike felt better. The pace was good in the first race, but it was difficult to pass riders in the groups. The second race was much better, although I had to come back to the front I had to avoid a crash in the first corners. On the last lap I pushed, but finally crashed and that cost my team-mate Adrián a lot of time as well. I want to say sorry to the team."
#NinjaSpirit