< Back to Racing News
Jul 24, 2021
Mathys Boisrame Consolidates Fourth in the Series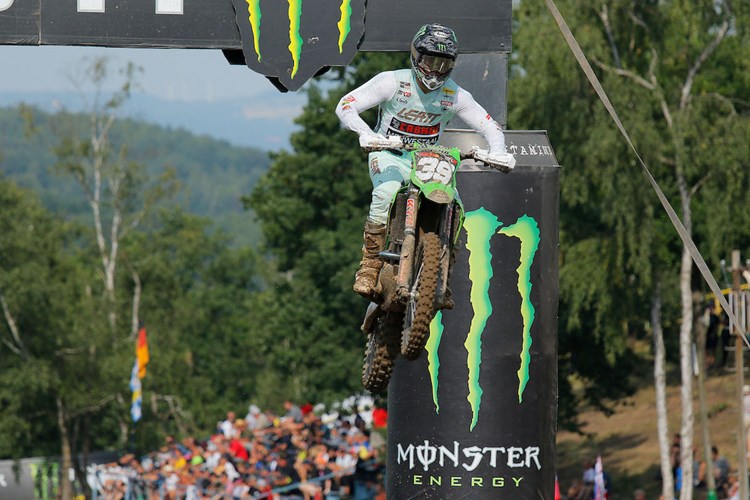 MXGP of Czech Republic - MX2 Class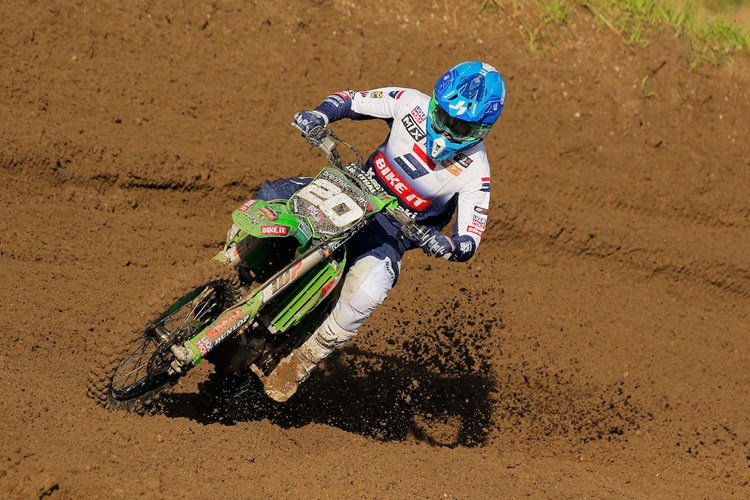 MXGP of Czech Republic - MX2 Class

MXGP of Czech Republic - MX2 Class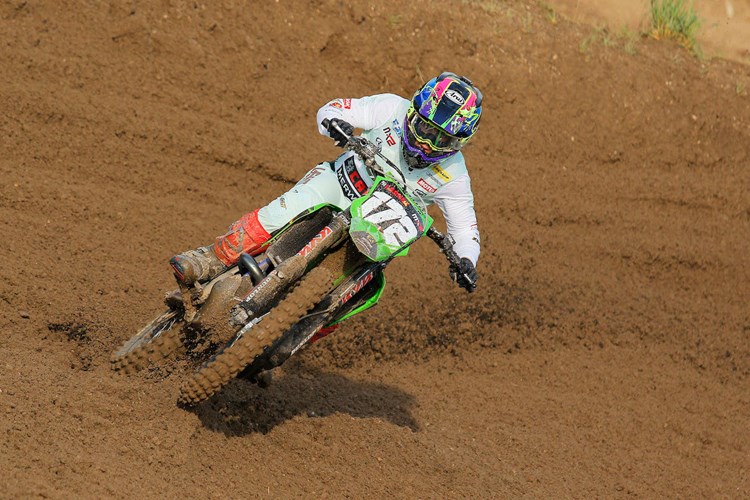 MXGP of Czech Republic - MX2 Class
Mathys Boisrame of the F&H Kawasaki MX2 Racing Team overcame a painful knee to consolidate his fourth place in the FIM World MX2 Motocross Championship standings in the Czech GP at Loket.
The Frenchman showed character to rebound decisively from a difficult start to the day when he twisted his knee during free practice and could only earn fifteenth choice of gate for the races in a dramatic final lap of Qualifying. He spent the entire first moto on the edge of the first ten to finish eleventh around the Loket track which twists around the hillside above the medieval town and where overtaking has always proved difficult. Caught up in traffic at the unpredictable first turn of race two Mathys was noted down in sixteenth position the first time past the timekeepers' line but he set to work with a vengeance and was already in the top ten at the end of the first complete lap. Making more splendid passes in tandem with F&H colleague Roan van de Moosdijk he advanced impressively to seventh and inherited sixth three laps from the end when his teammate slipped off. Ninth overall on the day, Mathys retain his fourth place in the championship standings.

Mathys Boisrame: "It was another tough day after I hurt my knee during free training this morning; I rode stiff in Qualifying and was twenty-fifth until the final minutes when I finally put in a decent lap. In the first moto my start was not so good and I never really found a good rhythm so I couldn't do better than eleventh. We changed some settings for the second race; my start was again not really good but my riding was much better even if my knee was still painful. I came back to sixth at the finish to end the weekend on a better note."

The Czech GP was a first-time visit to the unique Loket facility for Bike It MTX Kawasaki's Wilson Todd but the Australian commended himself honorably with a career-best eighth in Qualifying and a superb start in race one which saw him run top four through the early laps and maintain his pace to the end to take the chequered flag seventh. Running fourteenth through the early stages of race two he methodically carved his way forward to eleventh by the finish for his second consecutive top ten overall GP scoreline. He retains twelfth in the championship standings.

Wilson Todd: "It's my first time here at Loket and it's pretty different so I was pleased with my best Qualifying so far in eighth. I got a really good start in the first race and held on for as long as I could for seventh; I was on the pace but just got picked off by a few of the guys. It was quite slippery for race two after the rain; I started midpack, passed a few riders in the first few laps and rode it home to finish eleventh. Now I'm looking forward to a couple more starts so I can get used to racing these guys; we're all pretty much the same speed so it's hard to pass. For sure there's better things to come. I never raced Lommel yet but I heard about it (laughs); we'll find out next week. "

Roan van de Moosdijk of the F&H Kawasaki Racing Team started the day well by posting second fastest time in Qualifying for the fourth time in five GPs so far this year but a disappointing start left him initially outside the top ten in race one. Making some decisive passes he was seventh within five laps before he tensed up and had to settle for eighth at the finish. Again advancing quickly up the leaderboard in moto two from a twelfth-placed start he was seventh by lap three, moved sixth after twenty minutes and was closing rapidly on the eventual overall GP winner for fifth until he lost control on a slippery patch in persistent rainfall and crashed out of the race. The points chase is so tight that the incident dropped the Dutch youngster to ninth in the series standings but he remains just seventeen points shy of fourth and is confident of regressing the situation next weekend in Belgium.

Roan van de Moosdijk: "I earn second choice of gate in Qualifying again – my fourth time in five GPs this year – but my start in the first moto was not so good. I was riding well the first few laps to pass some good guys but the middle of the race I started to ride tight. I couldn't let it go; I was too stiff and had no option but to settle for eighth. My riding was much better in the second moto and I made some good passes but two laps from the end my front tire slipped out on a really slippery spot and I made a big crash. I think I'm OK but we'll go for x-rays tomorrow to make sure. I feel like my riding is good but on this track you need the holeshot to win. "

Third F&H teamster Mikkel Haarup again made life difficult for himself with moderate starts but rode solid consistent laps in both motos to chase through the pack to sixteenth in both races. A better result in race two was hindered when he came into contact with another rider early in the race and the incident pushed him temporarily outside the points-scoring positions. The young Dane is now fourteenth in the series points standings.

Mikkel Haarup: "I improved my Quali from last week but my start was shocking; I think I was twenty-eighth on the first lap. But I rode a decent moto; my lap times were where they should be and I came through to sixteenth. I improved my start in the second moto and was running twelfth on the first lap but I pushed too hard and ran into a guy who cut across me. It was a stupid mistake; I picked the bike back up and I was struggling for my rhythm for a time but I made a few passes at the end. Next up is Lommel and that will be a good one for me."