< Back to Racing News
Oct 4, 2020
Monster Energy
®

Kawasaki Captures 1-2 in Colorado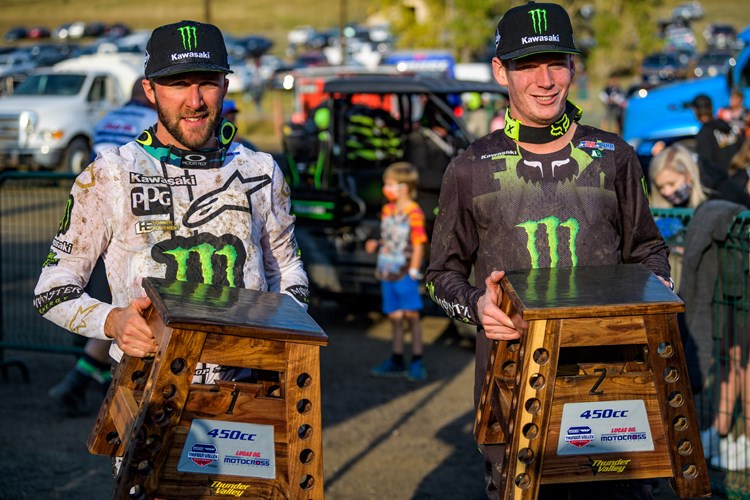 Monster Energy® Kawasaki Captures 1-2 in Colorado photo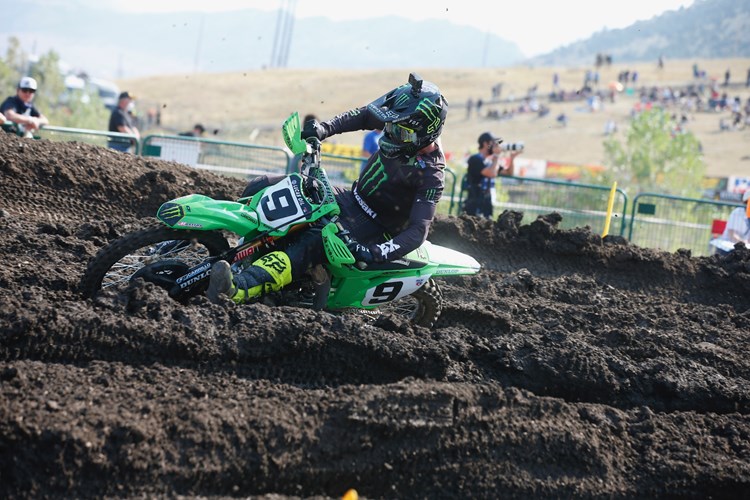 Monster Energy® Kawasaki Captures 1-2 in Colorado photo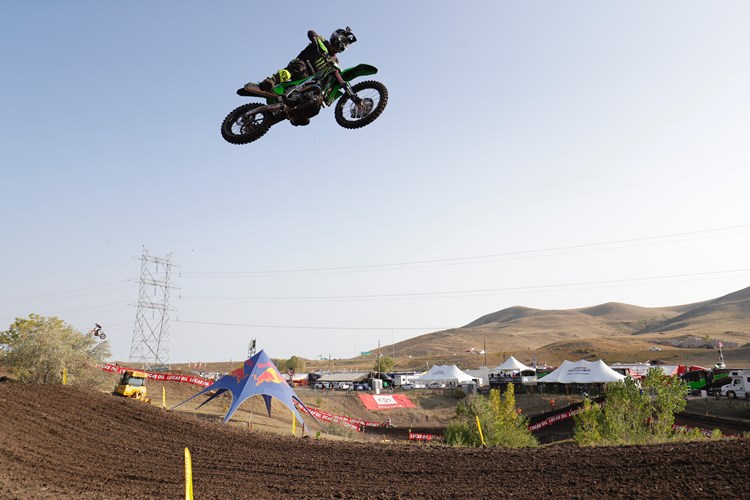 Monster Energy® Kawasaki Captures 1-2 in Colorado photo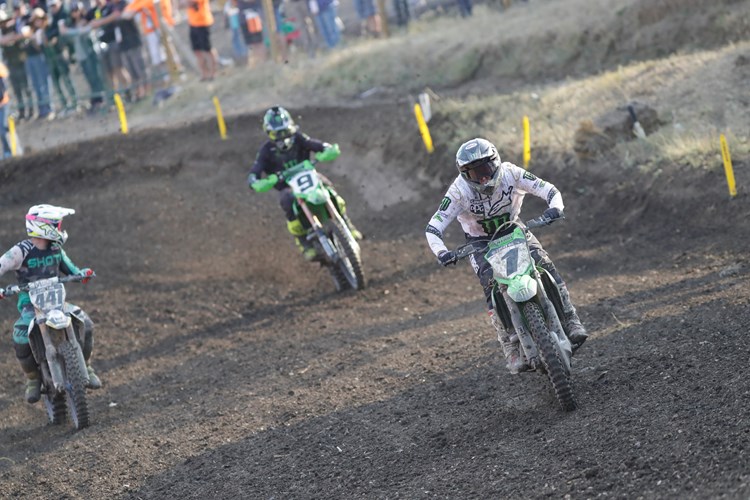 Monster Energy® Kawasaki Captures 1-2 in Colorado photo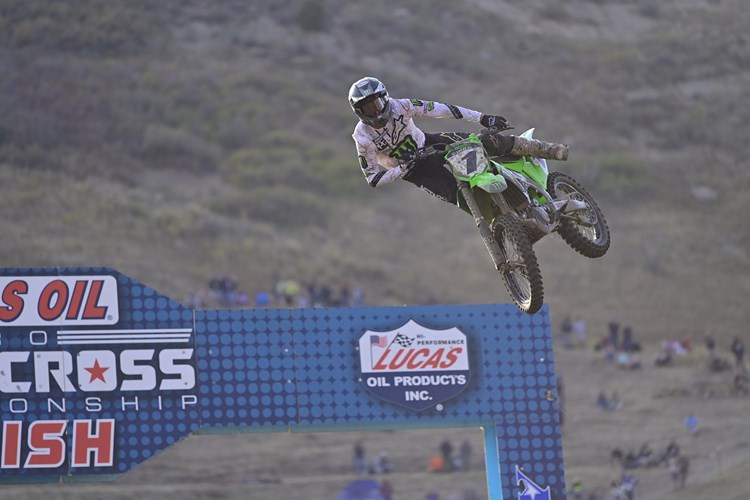 Monster Energy® Kawasaki Captures 1-2 in Colorado photo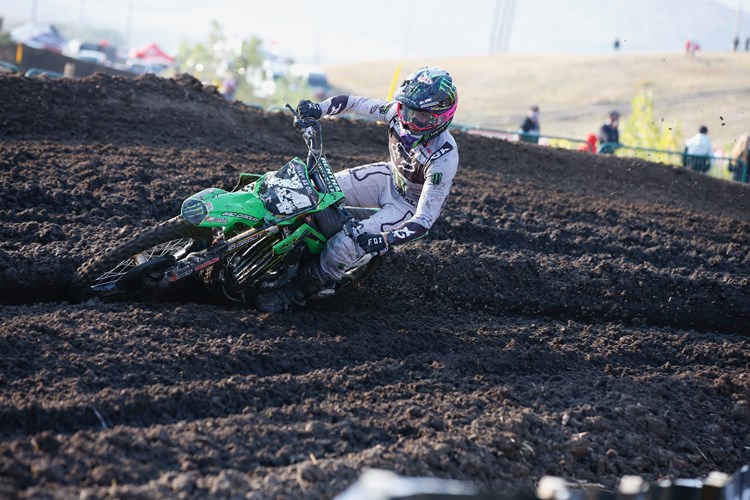 Monster Energy® Kawasaki Captures 1-2 in Colorado photo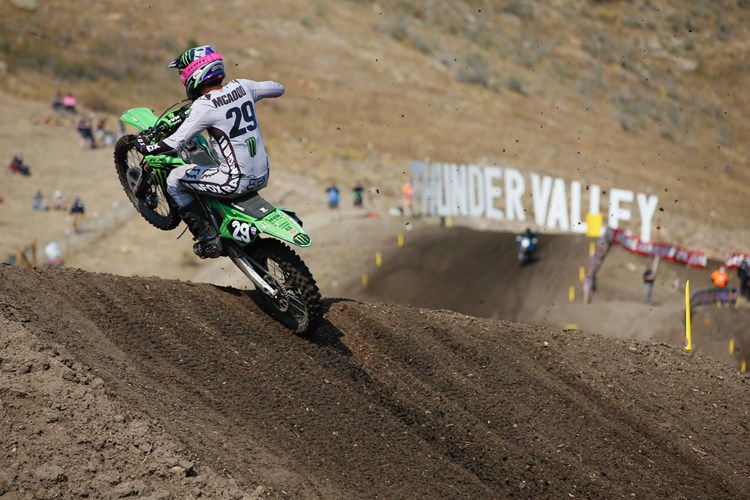 Monster Energy® Kawasaki Captures 1-2 in Colorado photo

Monster Energy® Kawasaki Captures 1-2 in Colorado photo
Kawasaki Team Green took Thunder Valley Motocross Park by storm as the Monster Energy® Kawasaki duo of Eli Tomac and Adam Cianciarulo took the first and second overall podium positions with their 3-1 and 1-3 scores respectively at the penultimate round of the AMA Pro Motocross series. In the 250 class, Monster Energy/Pro Circuit/Kawasaki rider Mitchell Harrison rode consistently throughout the day to finish eighth overall (8-9), while teammate Cameron McAdoo had his day cut short due to injury.
Due to a drought throughout Colorado, Thunder Valley Motocross Park in Lakewood, Colorado presented more of a hard-packed soil than usual meaning a quicker, more slick track. That didn't stop Cianciarulo from claiming his second pole position of the season with a 2:05.336, while Tomac eased his way into the day as he qualified with the time of 2:08.319, earning the sixth overall gate choice for Moto 1.
As the gate dropped for Moto 1 of the 450 class, Cianciarulo captured his seventh consecutive holeshot of the season aboard his KX™450 and went on to lead all 16 laps to finish with the win. Despite being a Florida native where soft sand makes up the majority of the track base, Cianciarulo prides himself on his riding skills on hard-packed tracks, which he backed up today by earning the fourth moto win of his rookie season. Tomac shot out of the gate to a Top-10 start and began his charge through the field. By the halfway point of the moto, the three-time defending champion showed his strength by maneuvering his way into third place where he would go on to finish.
Moto 2 saw Cianciarulo banging bars with the championship points leader right out of the gate as he won the fight for the front to lead the first five laps before getting caught by his teammate and Colorado native, Tomac. Improving on his start from Moto 1, Tomac once again was able to maneuver his KX450 to the front of the pack. As the crowd roared, the Kawasaki duo led the field before Cianciarulo made a minor mistake causing him to lose a position and finish third in the moto for second overall (1-3). Tomac returned to winning fashion as he held on to the lead for the remaining 11 laps to take the overall victory with 3-1 moto scores.
The Monster Energy Kawasaki team heads into the final round of the 2020 Pro Motocross season next weekend at Fox Raceway in Pala, California with Cianciarulo sitting 24 points back in second place in the championship point standings with 50 points available, while Tomac remains in championship contention in fourth place.
"Everything just felt right today. Similar to Moto 2 from last weekend at WW, I was able to go forward and get to the front like I have done for the past three years. I thought they did a wonderful job with the track; it was smooth in the morning but by the time our second 450 moto came around it was rough and challenging, and it wasn't just a big freeway out there. Being able to win in front of the home crowd is always something special and something I don't take for granted. When I passed for the lead, it reminded me of supercross a little bit as I could hear the fans cheering. It makes you appreciate having them back at the race. I am looking forward to finishing out the season strong next week at Fox Raceway."
– Eli Tomac
"I am frustrated that I couldn't seal the deal today. Moto 1 we led from start to finish with a good amount of pressure from behind. In Moto 2 we got to the front in a hurry on the opening lap, but I kept making a few minor mistakes that ultimately added up and cost me two positions. I try to remind myself that this is only my rookie season, but I also know that I have what it takes to win if I can just clean up some of those little pieces throughout the race. All in all, it was a great day for Kawasaki going 1-2 on the podium. My Monster Energy Kawasaki KX450 has been an absolute beast this season and has helped put me at the front of the pack in each moto. Let's go have some fun this weekend at Fox Raceway and put on a show for the fans!"
– Adam Cianciarulo
In the 250 class, Harrison led the charge in the morning for the Monster Energy/Pro Circuit/Kawasaki team as he qualified 14th with a 2:11.834 while McAdoo qualified 15th with a 2:12.043.
Moto 1 of the 250 class saw Mitchell rocket out of the gate aboard his KX™250 to grab his first holeshot of the season. Just after the 40-rider field made it through the first turn, Harrison fell back a few positions but continued to push for the entirety of the moto, eventually crossing the finish line in eighth. Meanwhile, McAdoo ran into some tough luck as he crashed into a downed rider on the last lap of the moto, forcing him to abruptly end the day due to an injury to his hand.
Harrison lined up for Moto 2 ready to take on the challenge, but this time found himself starting from ninth position after the gate dropped. He would go on to ride another consistent moto, even swapping positions between seventh and ninth, but ultimately finishing ninth for eighth overall with his 8-9 scores on the day.
"It was a much better day overall. Qualifying wasn't the best, but I made some adjustments to the bike and really focused on my form and technique which paid off in the races. I pride myself on being a good starter and with the combination of my Monster Energy/Pro Circuit/Kawasaki KX250, we have the recipe for success, and it showed in Moto 1. It was good to just get out front and run with those Top-3 guys. I feel like my 8-9 scores for eighth overall do not really do justice for how good I was really feeling on the bike. I am bummed we only have one more race left this season because I am just enjoying racing with my team, but we're going to the make the most of it one last time next weekend."
– Mitchell Harrison
"Unfortunately, on the last lap of Moto 1 a lapper went down right in front of me and I was hit by his bike which resulted in breaking three fingers on my right hand. The good news is that I should heal well with just a couple weeks of rest. I can't thank my Monster Energy/Pro Circuit/Kawasaki team enough for sticking behind me. This is obviously not the way I wanted to end my season, but I'm grateful it's not worse and should heal quickly."
– Cameron McAdoo