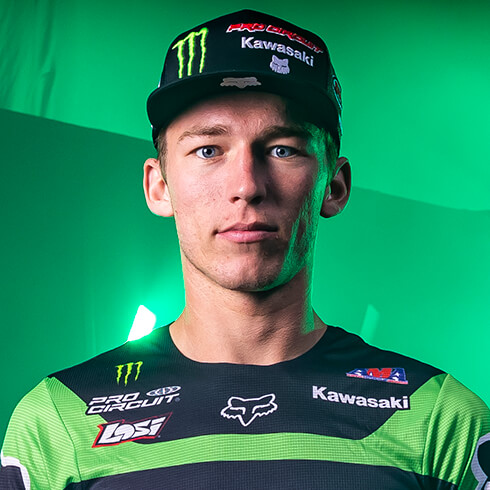 CAREER ACHIEVEMENTS
12 CAREER MONSTER ENERGY

®

AMA SUPERCROSS 250SX WINS
20 CAREER MONSTER ENERGY

®

AMA SUPERCROSS 250SX PODIUMS
1 CAREER AMA PRO MOTOCROSS 250 WIN
7 CAREER AMA PRO MOTOCROSS 250 PODIUMS
CAREER HIGHLIGHTS
2022
Forkner entered 2022 as a championship favorite and proved his mettle early by finishing second in the first round of the Monster Energy Supercross Eastern Regional 250SX season. An injury sustained while battling for a podium position in the second round however, sidelined him for several races. Forkner returned to racing with four rounds of supercross remaining and claimed his maiden victory of the season in just his second race back. Forkner elected to sit out most of the Pro Motocross championship to allow his body to properly recover. With a full off-season of preparation, Forkner is ready to return to his race-winning form and contend for championships in 2023.
2021
Austin Forkner began the 2021 Monster Energy® SUPERCROSS EASTERN REGIONAL 250SX season with Championship prospects, scoring second place at the opening round in Houston, TX. An injury sustained at the third round of the season sidelined Forkner for the remainder of the Monster Energy® AMA Supercross Championship, but he bounced back to claim seven top-ten finishes during the AMA Pro Motocross Championship.
2020
Austin Forkner kicked off the 2020 Monster Energy AMA Supercross season with a bang, earning four wins and six total podiums in the 250SX West class. After a crash in the final West division race, the veteran 250 class rider brought home third place overall in the series and was unable to compete in the AMA Pro Motocross series. Forkner will look to achieve his goal of bringing home the 2021 supercross 250SX class title and make his return to the Pro Motocross series.
2019
Austin Forkner started the 2019 Monster Energy® AMA Supercross season on fire as he captured wins in the first five of six 250SX East Region races. After a crash in Nashville, his championship hopes were cut short as injury kept him from finishing the season or competing in the AMA Pro Motocross Championship series. Forkner aims to return to his successful status in 2020 and claim what was supposed to be his, a 250SX championship.
2018
2018 was a marque year in the young racer's Monster Energy® AMA Supercross career, as Forkner would capture his first 250SX career win, finishing the season with two main event wins, three podiums, and never finishing outside of the top 10, giving him a career best fourth overall in the series. During the 2018 AMA 250 Pro Motocross Championship, Forkner was able to earn a top 10 overall finish at eight out of the twelve nationals, finishing the series in seventh place in the standings.
2017
2017 marked Forkner's highly-anticipated Monster Energy AMA Supercross debut in the 250SX Western Regional Championship. The rookie came out strong with an eighth-place finish at round one in Anaheim and continued to improve throughout the year with his first career podium at round 4 in Phoenix followed by a season-best second-place finish at round 6 in Arlington. Forkner was sidelined at the Seattle round but was able to return for the last two rounds and grab two more top-10 finishes for 6th overall.
2016
Austin Forkner is the most recent graduate from team Monster Energy Kawasaki Team Green and proved to be a force to be reckoned with as he captured two moto wins, six podium finishes and was awarded 2016 Rookie of the Year.
THE EQUIPMENT