msrp NON-FI: $7,799 / MSRP FI: $8,399
destination charge $670
†
† Specifications and pricing are subject to change.
Dealer sets the actual destination charge, your price may vary.
Click on product to zoom.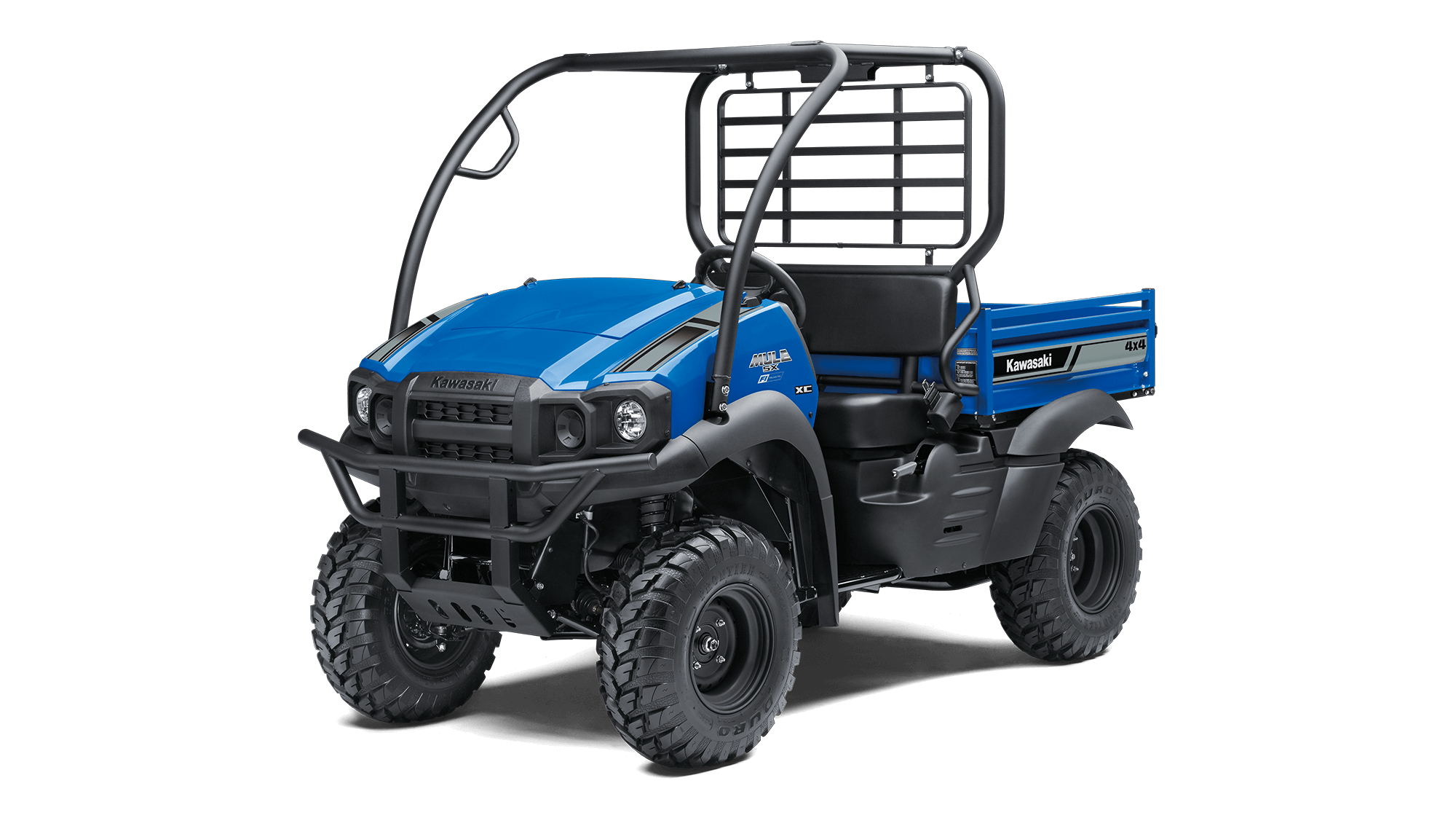 colors

Vibrant Blue
Power
Engine
4-stroke, single-cylinder, OHV, air-cooled
Bore x Stroke
3.23x2.99 in
Maximum Torque
21.4 lb-ft @ 2400 rpm
Fuel System
Fuel injection
Transmission
Continuously Variable Transmission (CVT) with (H,L,N,R)
Final Drive
Selectable 2WD/4WD, shaft. Dual mode rear differential with differential lock
Alternator Output (max)
22.9 amp
Capability
Front Suspension / Wheel Travel
MacPherson Strut/3.1 in
Rear Suspension / Wheel Travel
Unit Swingarm/3.1 in
Park Brake Type
Independent, Mechanical Drum
Steering
Rack-and-pinion, Tilt steering
Cargo Bed Dimensions (LxWxH)
35.6 x 40.9 x 9.6 in
Cargo Bed Capacity
400 lb
Lighting
(2) Halogen headlights, tail/brake lights
Details
Instruments
Fuel gauge, hour meter, oil temp light, parking brake light
Color Choices
Vibrant Blue
Warranty
Kawasaki Strong 3-Year Limited Warranty
Kawasaki Protection Plus™ (optional)
12, 24 or 36 months
All MULE side x sides' Rollover Protective Structure (ROPS) meets the performance requirements of ISO 3471
*Requires Optional Hitch
**Curb weight includes all necessary materials and fluids to operate correctly, full tank of fuel (more than 90 percent capacity) and tool kit (if supplied).
KAWASAKI CARES: Read Owner's Manual and all on-product warnings. Always wear protective gear appropriate for the use of this vehicle. Never operate under the influence of drugs or alcohol. Protect the environment. The Kawasaki MULE™ side x side is an off- highway vehicle only, and is not designed, equipped or manufactured for use on public streets, roads or highways. Obey the laws and regulations that control the use of your vehicle. ©2020 Kawasaki Motors Corp., U.S.A.
Specifications subject to change.
vehicle experience
Explore the MULE™ side x sides in a 360 degree environment.
overview
401cc fuel-injected, 4-stroke engine
Selectable 2WD/4WD with dual-mode rear differential
New fuel injection system improves starting and throttle response while ensuring consistent engine operation across a wide range of conditions
Up to 1,100-lbs. towing capacity and 400-lbs. cargo bed capacity*
Compact size and tight turning radius for easy maneuvering
Adjustable tilt steering, premium thick grip steering wheel and padded bench seat for all day driving comfort
Backed by the industry-leading Kawasaki STRONG 3-Year Limited Warranty
gallery
accessories & apparel
All trademarks, registered trademarks, logos, and copyrights are the property of their respective owners.
WARN
®
, the WARN logo and THE RED HOOK STRAP are registered trademarks of Warn Industries, Inc.
ProVantage™ and Vantage™ are trademarks of Warn Industries, Inc.
Realtree APG-XTRA Camouflage Design © 2012 of Jordan Outdoor Enterprises, Ltd., all rights reserved.
™/® & © 2018 TrueTimber Outdoors Holding Company, LLC. Manufactured and/or distributed under official license by Kawasaki Motors Corp., U.S.A.
view comparable models
2-PASSENGER
MULE SX
™
Compact-size, high capacity, two-passenger side x side.
MULE
™

4000/4010

Mid-size, high capacity, two-passenger side x side.
MULE PRO-MX
™
Mid-size, high capacity, two-passenger side x side.
items have been added
Please make a selection below
×