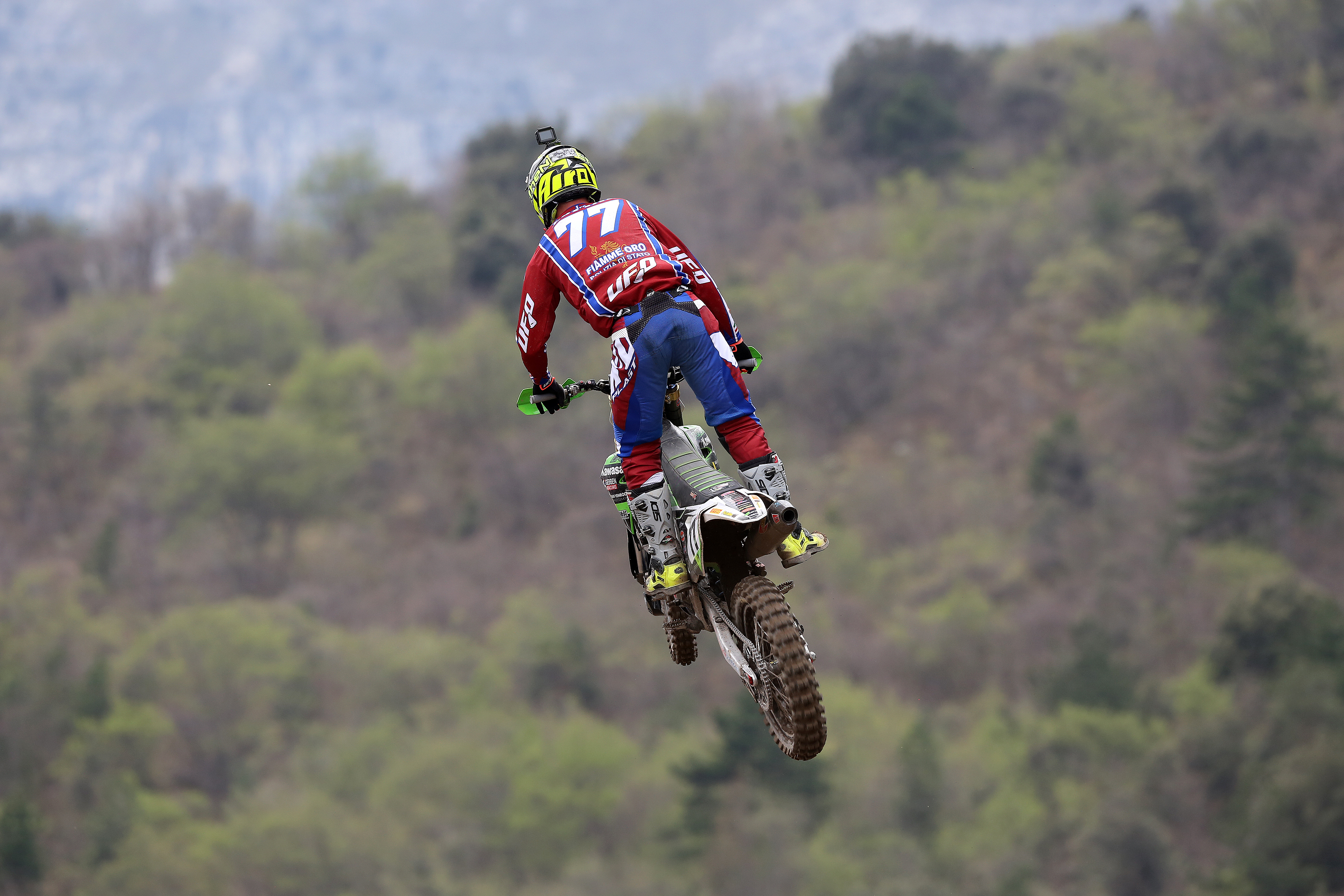 Alessandro Lupino of Gebben Van Venrooy Kawasaki collected a season-best seventh in the fourth round of the FIM World MXGP Motocross Championship at Pietramurata in his native Italy.
The twenty-eight year old displayed great resolve all weekend in front of his home fans. He used his sixth-placed gate pick from Saturday qualification wisely to gate top three and run top six throughout the entire first moto to take the checkered flag in sixth position. After a mid-pack start in race two he advanced quickly from fifteenth to twelfth on the opening lap and, riding consistently fast laps to the end, finished tenth to secure seventh overall on the day. He is now fourteenth in the series standings, just eleven points from the top ten.
Alessandro Lupino: "
I'm pretty happy with this weekend even though I know my riding could be even better. I scored good points, my best GP so far, and this seventh position is good for everyone in the team. We have now five weeks before Mantova to be even stronger. I know that I can be in the top ten regularly, and that is what we will work for. I have an Italian race next week, then I will spend one week with my physical trainer in Belgium and join the team to do more testing."
BOS Factory's Tommy Searle rode in a solid fourteenth place until a slip six laps from the end of race one cost him three places; the Englishman was seventh for most of the second moto before dropping a place on the final lap. He is now fifteenth in the standings, just two points back from Lupino.
Tommy Searle: "
It's good to finish the weekend on a positive note in the top ten with an eighth position before the five-week break. Now we need to use this time wisely to work together so that I can come to Mantova a lot stronger. The start was important here. I have worked a lot on that at home this week; I feel we moved forward this weekend and hopefully it will pay off at the next GPs."
Clement Desalle, handicapped by injuries to wrist and knee sustained during recent GPs, battled with great determination to defy the pain to finish twelfth in the opening moto but was forced to withdraw from race two after falling on the opening lap. The Belgian is now sixth in the series standings. Julien Lieber, his teammate in the Monster Energy Kawasaki Racing Team, faced two tough races after missing his usual good starts. He advanced from nineteenth to thirteenth in race one and from twenty-seventh to twelfth in the second moto. He is now ninth in the series points standings.
Julien Lieber:
"It was a tough weekend; both races were difficult as my starts, especially the first one, were not that great. It was difficult to pass on this track due to the rain earlier in the week but my physical fitness gained some positions in the last ten minutes of each race. My second start was better but two riders crashed in front of me in a corner on the opening lap and I lost a lot of time; I was a long way back but I came back to twelfth which was not so bad."
Benoit Paturel, making his GP debut for the Gebben Van Venrooy team after an operation on his forearms, showed great promise for the rest of the series with sixteenth- and thirteenth-placed moto finishes after he had made excellent starts to run ninth and eleventh in the early stages of the two races before the lack of recent race practice inevitably saw him relinquish several places in the later stages each time.
Benoit Paturel: "
It's never easy to be back racing after missing several GPs but I regrouped after my crash in the free practice session on Saturday to have a better Sunday. I got two decent starts; in the first moto I was in the top ten for the first fifteen minutes but then it was tough physically as I have only been back on the bike for two weeks. The second race was better and I have now five weeks to improve my condition. I want to thank the team for their support and belief in me."